Bio
---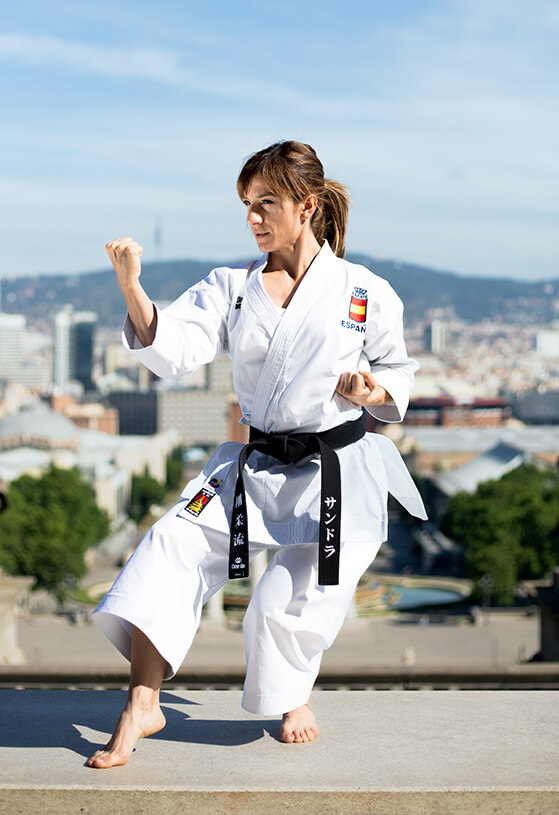 Fecha de Nacimiento Birthday: 16/09/1981
Lugar de residencia Residence: Madrid, Spain
MI TOP 3
Hobbies
1. Jugar con mis sobrinos  Playing with my cousins  2. Karate  3. Leer Read
Lugares favoritos Favorite Places
1. Lugar perdido en la montaña Somewhere in mountain  2. Playa desierta Deserted beach  3. Talavera Talavera
Mejores resultados en competiciones The Best Results in Competitions
1. Campeona del Mundo World Champion 2. Número uno del Circuito mundial años 15/16/17/18 No.1 of World circuit years 15/16/17/18  3. Campeona de Europa 15/16/17/18 European Champion 15/16/17/18
Comida favorita Favorite Food
1. Sushi  2. Pan Bread  3. Palomitas Popcorn
---
FILOSOFÍA EN LAS ARTES MARCIALES Philosophy in Martial Arts 
– ¿Qué piensas cuando estás en el Tatami? What do you think when you are at Tatami? 
Trato de no pensar, me mando mensajes positivos… he trabajado mucho, muestra todo tu karate, etc.  I try not to think too much, only giving myself positive thoughts…for example, I worked very hard, let's show your Karate….
– ¿Qué significa el taekwondo/karate/judo para ti? What does taekwondo/karate/judo mean to you? 
Es parte de mi vida, me ayuda a ser quien soy y a tratar de ser mejor.  It is part of my life. Karate helps me to be who I am and to be a better me.
– ¿Cuentas con algún ritual o superstición antes de competir? Could you please share your ritual or superstition before competition? 
Me gusta confiar en el trabajo que se ha hecho, pero me acompañan las bolas de dragón como algo bonito que me une a mi infancia con mi hermano.  I would like to trust in my work that has been done, but dragon balls accompany me as something beautiful that unites me to my childhood with my brother
– ¿Cual sería tu consejo para las nuevas generaciones de deportistas? What is your advice for new generation athletes? 
¡Entrenar! se puede conseguir los sueños, pero requiere mucho trabajo y esfuerzo.  To train! you can achieve dreams, but it requires a lot of work and effort.
– ¿Cuál es tu motto? What is your mottos? 
No te canses de intentarlo y convertirás lo imposible en una realidad.  Don't get tired of trying and you will make the impossible a reality.
– Desde qué edad practicas artes marciales: From what age you started the martial arts: Desde los 4 años. Since I was 4.
– Eres parte del Team Daedo desde: Since when did you become a part of Team Daedo: 2018
– ¿Cuál es tu Dobok/karategui/judgi favorito? What is your favorite Daedo product?  Daedo Bunkai

Productos recomendados por Sandra Sánchez